UMWA held an informative event on Kharkiv streets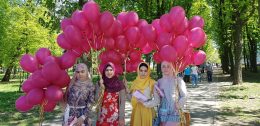 On May 1, activists of the All-Ukrainian Association of Muslim Women held a rally in Kharkiv, which was held in Gorky Park. The girls handed out balloons to children and answered passers-by questions about the hijab and Islam.
"Closer to the summer, when the weather gets warmer, Muslim women attract more attention of people. Often you can see a silent question in their eyes: "Is it not hot for you ?!" Though even Western medicine has proven the benefit of covering the whole body from the direct rays of the sun. That is why the Kharkov Muslim women decided to conduct such an educational event. A girl in a headscarf should not frighten people or cause misunderstanding. Such activities help to correct the wrong stereotypes about the hijab. We are pleased that sisters are increasingly socially active and are participating in the process of improving public opinion. The Association is planning to hold a number of similar actions in other cities soon" – says Ekateryna Yurchenko, UMWA President.







Deprecated: File Theme without comments.php is deprecated since version 3.0.0 with no alternative available. Please include a comments.php template in your theme. in /usr/local/www/muslimwomen.com.ua/wp-includes/functions.php on line 5579