UMWA Presentation In Odessa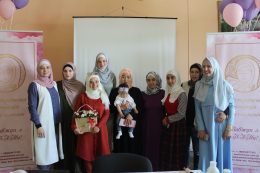 The Ukrainian Muslim Women Association (UMWA) expands its geography. On May 6, a presentation of the organization took place in Odessa.
"Muslim women's club has been functioning in Odessa community for a long time. We organize events and lessons for women and children, but it's time to move to a new level. The Ukrainian Muslim Women Association is a great opportunity to share an experience with sisters from different cities of Ukraine, create joint projects, conduct social actions on a large scale. A Muslim woman leads an active lifestyle, she is not restrained and humiliated. The public needs to know about this, otherwise false stereotypes will continue to enter people's minds" the activist shared.
UMWA has existed for less than a year, but there are several successful social and educational campaigns on the account already, participation in family forums and a number of important projects aimed at helping the oldest and children.

The main goal of the Association is to eradicate false stereotypes about Islam and a Muslim woman, the improvement of public opinion, protection of Muslim women rights, development of family institute and preservation of traditional values.

UMWA is always with you!





Deprecated: File Theme without comments.php is deprecated since version 3.0.0 with no alternative available. Please include a comments.php template in your theme. in /usr/local/www/muslimwomen.com.ua/wp-includes/functions.php on line 5579