A Knowledgeable Muslim Woman Is a Guarantee Of Prosperous Community.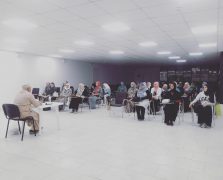 Traditional lectures for women, which take place every second Sunday of a month, resumed with the beginning of autumn.
The acquisition of knowledge is the responsibility of both male and female. Ukrainian Muslim Women Association, in collaboration with the Islamic University, organizes individual and collective lessons for women on an ongoing basis.
On September 9, the theme of the lecture was The Relocation of the Prophet from Mecca to Medina. Sheikh Walid Tamim spoke about the importance of this event for Muslims, events that preceded it and the wisdom of hijra.
At the end of the lecture, the event continued in the form of a buffet table.