Muslim Women of Odessa organized "Halal Fair"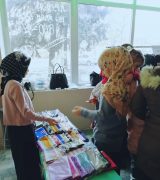 Sisters from Odessa branch of All-Ukrainian Muslim Women Association held a charity fair of Halal products.
The event took place on January 13, not far from the mosque on Balkovskaya str. Muslim women from all over Odessa presented a wide range of products from hijabs and shawls to cosmetics that do not contain alcohol. Also, girls have prepared a wide variety of sweets, both Eastern and European cuisine. The guests were listening to wonderful madihs during the fair.
Visitors of the fair could not only see the diversity of Muslim goods but also get acquainted with the Islamic culture more closely, learn about the life of a Muslim woman firsthand. The culmination of the event was a presentation of UMWA activities in Odessa. Sisters spoke about areas of work of the women's organization and shared their plans for the future.
"We care about the unity of our sisters in faith, hold meetings, educational and useful entertainment events for Muslim women. We are happy that we managed to implement such an idea as "Halal Fair". Organizing it we wanted to give our women the opportunity to purchase products permitted by Sharia, to familiarize women with the development plan of the Association and once again spend a good time together. We wanted to show guests of our event that Muslim women are far from being like the modern media describe them. We pay a lot of attention to social activity, own business, hobbies, and self-development. A Muslim woman is not humiliated and she is not in the position of a slave in a house. A large number of sisters, who presented their goods here, is a confirmation of this. All the fair participants had wonderful impressions from the event. In our hopes that such activity will become a good tradition in our community," shared Khadija, one of the organizers of the event.
The fair was held in a friendly and warm atmosphere. Guests were satisfied with both the event and their purchases. A significant part of the funds was donated to development of the women's organization in Odessa.





Deprecated: File Theme without comments.php is deprecated since version 3.0.0 with no alternative available. Please include a comments.php template in your theme. in /usr/local/www/muslimwomen.com.ua/wp-includes/functions.php on line 5579