Ukrainian Muslim Women Association expands the geography of assistance to children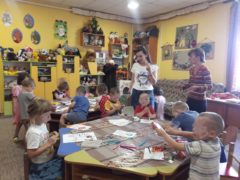 On July 6, activists of the All-Ukrainian Association of Muslim Women organized a trip to the Nezhinsky Center for Social and Psychological Rehabilitation of Children – a social protection institution established for a long (inpatient) and day stay of children aged from 3 to 18 years old who found themselves in difficult life circumstances providing them with comprehensive social, psychological, educational, medical, legal and other types of assistance.
"At the moment there are 43 children in the center. We are pleased that the children don't stay longer, for 9 months they are taken for adoption or guardianship by Ukrainian families.
But with each child we carry out substantial work before it to adapt it to normal social life, since in most cases they are taken away from parents who, because of their drug and alcohol addiction, completely forget that they have children, such people are completely absorbed in their illness" – says the head of the center Marietta Slusarenko.
The main assistance to the rehabilitation center itself is primarily provided by volunteers, since state funds are sufficient only to pay rent, utilities and food for children.
Muslim women provided the institution with the necessary means of hygiene, brought sweet gifts to the children. After talking with the leadership, activists learned about the needs of the orphanage and agreed on future visits.
This is the fifth institution of this type, which All-Ukrainian Association of Muslim Women undertook to help on a permanent basis.
"A child is a pure creation of God (Allah). It is like an empty vessel – with what you will fill it, it will remain there. A woman will never stand aside if she sees that a child needs help. We are trying to improve the lives of orphans and abandoned children not only material, but also psychological, giving them as much warmth and care as possible, instilling the right vector of social behavior, culture and morality," – says Natalia, one of the activists of All-Ukrainian Association of Muslim Women