Giving You Joy In Kurban Bayram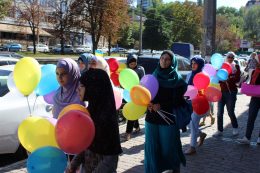 On August 22, activists of Ukrainian Muslim Women Association held actions for the holiday of Kurban Bayram in Kiev, Kharkov, Poltava, Kremenchug and several other cities.
Muslim women handed out sweets to passer-by citizens and told them about Islam, the history of the holiday and the Muslim community of Ukraine.
"It is important to show Ukrainians that Muslims are not the people shown as evil terrorists on TV, Muslim women are not slaves in husband's house and Kurban-Bairam is not a bloodthirsty fest, but it is a good family holiday that teaches to be generous, to sacrifice something for others"– shared sister Yekaterina.