Master class by UMWA at the OUTLOOK festival 2018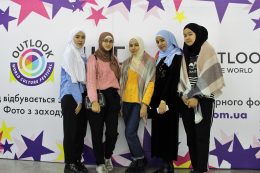 On October 27, the Fifth OUTLOOK World Culture Festival 2018 was held in the Mystetskyi Arsenal, where embassies and diasporas of more than 35 countries took part.
The All-Ukrainian Muslim Women Association presented the culture of different Muslim nations at the event. The girls demonstrated traditional for Muslim countries ways to tie a scarf. The master class from UMWA made a splash, having gathered near its location a huge line of girls, who wanted to wear hijab.
"When I put on a shawl, I was filled with some inexplicable feeling of security and calm. This is a completely different feeling, unusual but very pleasant," shared one of the participants in the master class.
Both little girls and women of honorable age had an interest in hijab. Many of them did not want to take it off. They just left the festival in scarves.
"We are very pleased that Ukrainian women not only showed a keen interest in the shawl. The girls happily tried it on and sincerely admired that the hijab transformed them and made them more beautiful. Although many people initially thought that the scarf did not suit them. This is not our first such master class. We are very pleased that the Ukrainian society perceives the hijab as something beautiful and worthy, and we are helping to further establish this thought," said one of the activists of UMWA at the end of the event.