UMWA Visited An Orphanage Near Kiev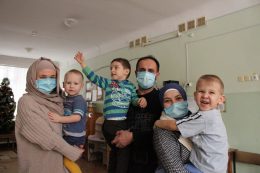 On January 21, the All-Ukrainian Muslim Women Association visited specialized children`s home in the city of Belaya Tserkov. This is the second visit to children of this institution.
The children's home takes care of 60 children from 1 month to 8 years. Its feature is there are children from birth to 8 years old, both healthy (most often taken from parents when their parental rights are deprived) and with serious diseases of the nervous system, cerebral palsy, Down's disease, physical defects, congenital heart defects and delayed psychophysical development, HIV-infected and other.
Children need constant attention, treatment, rational nutrition and care. Due to lack of necessary funds, life needs of children are not fully met – they receive fewer vegetables, fruits, and vitamins. It is also impossible to provide disabled children with full neurological and rehabilitation assistance due to lack of funds to purchase the necessary equipment and apparatus to organize a physiotherapy room, gym, to buy necessary furniture.
The staff of the orphanage consists of pediatricians, psychiatrists, speech therapists, pathologists, educators, nannies, and nurses. They direct all their efforts to ensure that children do not feel their orphanhood and disease, give children warmth of their hearts, develop the abilities and social skills of children with physical and intellectual defects so that such children could lead a full and decent life in the future.
"It is obvious that the employees at children's home are trying to pay attention to each child, treat them as if they were relatives. But physically, one nurse doesn't have enough abilities to give all the children in the group as much attention as each child would like to have. It would be very good for the guests to visit the children more often, give them new emotions, warmth, and care because the kids don't have enough of it. Sisters of UMWA regularly visit such places. Moreover, we will try to ensure that in every region where our branches are, sisters would visit such children. This will benefit them and us too", says President of the Association.
The All-Ukrainian Muslim Women Association is grateful to everyone who took part in the charity visit. Thank you very much for the financial, moral and physical assistance in such a wonderful deed.