Kiev Muslim women studied the traditions of Vainakh cuisine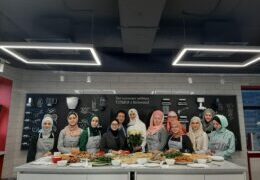 On March 4, a master class of Chechen cuisine from the culinary inspirer of the All-Ukrainian Muslim Association Maryam Kurbanova was held in Kyiv.
Interest in the dishes of the Vainakh people gathered a multinational company. Georgian, Chechen, Ukrainian, Azerbaijani, Tajik, Avarka – is still not the complete list of nationalities.
The girls learned how to make a jigig galnash of wheat and corn flour (dumplings are cooked in broth or in salted water, then put on a plate, slices of meat are placed on top of dumplings.
Separately dumplings with meat broth are served in glasses. The dish is served hot in bowls with meat and slices of garlic, grated with salt as well as small amount of broth in glasses), hingalsh with pumpkin and chepalgash with cottage cheese.
To prepare the latter, kefir is heated, then sifted flour is added together with a bit of salt, soda. Later soft dough is kneaded. The filling is prepared from cottage cheese with salt and eggs, then everything is thoroughly ground and mixed well, the dough is divided into equal pieces and rolled into cakes.
Then, in the middle of the dough put the filling, cover on all sides and fasten. The filled dough is rolled out, giving it a round shape, after that the cake is placed on a dry preheated pan and covered with a lid. Turn it over from time to time before it is cooked.
After cooking, chepalgash is dipped in hot water and smeared with melted butter, then laid out on a dish, putting flat cakes one on top of the other, and then poured with melted butter. Chepalgash is usually served in a tray, from which everyone takes it by pieces or in a plate, served individually for each and cut into several pieces.
Vainakh cuisine is very diverse and each housewife has her own secrets of delicious food. Maryam revealed some of her secrets. This is the fourth culinary master class from her, a great advantage of which is that all dishes are prepared exclusively from natural halal products and this is very important for practicing Muslims.